Parklife
Haninge (SE) – Winner
TEAM DATA
Team Representative: Christian Scott Rasmusson (SE) – architect; Associate: Johan Källander (SE) – architect
Contributor: Björn Ingridsson (SE) – student in architecture
SR-B AB, Edsbergsgränd 3, 12940 Hägersten – Sverige
+46 73 244 09 87 – info@sr-b.com – www.sr-b.com
See the complete listing of portraits here
See the site page here


B. Ingridsson, J. Källander and C. S. Rasmusson
INTERVIEW
1. How did you form the team for the competition?
Our team was formed out of friendship and complementary skills, which apparently produced positive synergy effects.
2. How do you define the main issue of your project, insisting on how you answered on this session main topic: adaptability and urban rhythms?
Through years of many discussions about how a successful approach to architecture and urban planning in Sweden should look like, we saw the opportunity to implement these ideas in Haninge centre and in accordance to the Europan 12 topic.
We believe that architecture and urban planning in Sweden need to weave in more disciplines than what is commonly seen today. By creating an urban structure that takes into account the people's ambitions, economics, public spaces ownership rights, social situations, safety, traffic and parking, we create a win-win situation for everyone involved.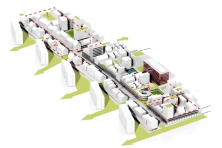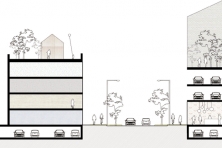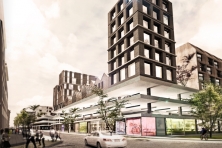 3. How did this issue and the questions raised by the site mutation meet?
We believe we proposed a start to a flexible and durable structure that the site needs to have a socially and economically positive development.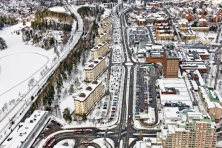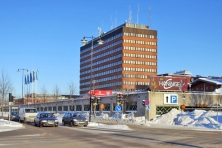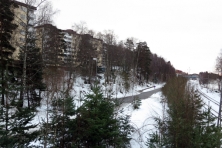 4. Have you already treated this issue previously and could you present some reference projects that inspired yours?
We have tried to deal with parts of this topic before but never on this scale or scope. Our solutions became interesting only when we began to get interested in other disciplines and realized the answer usually given to complex architectural issues were simplified and mostly a matter of colour and shape. In this sense, "PLUS" by Lacaton et Vassal is a project that opened our eyes to a new way of thinking.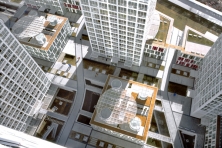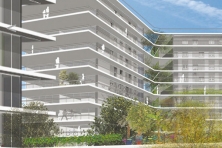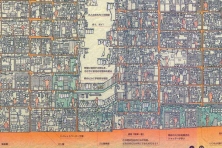 5. Today –within the era of an economic crisis and sustainability– the urban-architectural project should reconsider its production method in time; how did you integrate this issue in your project?
The construction methods will vary depending on the type of building, the lifespan of the business or use. We believe that urban solutions such as the one we propose must have good economic and social incentives for all parties involved. This is fundamental for a long-term and environmentally friendly solution that can be accepted by a broad political majority, ordinary people and developers. This will enable and encourage developers and municipalities to select sustainable and right construction methods for the involved buildings and places.
6. Is it the first time you have been awarded a prize at Europan? How could this help you in your professional career?
This is the first time we have participated to Europan. This is obviously a great opportunity to reach out and engage in discussions with interesting receivers for our ideas about architecture. We hope that this is a start for a future office that can take architecture further than before.