The New Local System
Workshop Badajoz (ES) - Workshop Site 3
PARTICIPANTS:
Camille Le Bivic (FR), Florent Vidaling (FR), Winner in Goussainville (FR) with "Base vie"
Annelie Seemann (DE), Marc Torras Montfort (ES), Winner in Gera (DE) with "Colonization of the City Center"
Malin Svensson (SE), Runner-up in Lund (SE) with "Monster Planning"
Coach: Jens Metz (DE)
SITE 3 - USES & RHYTHMS
How Can Urban Rhythms Be a Motor for Urban Reappropriation?
"How Can Urban Rhythms Be A Motor For Reappropriation" was the question for Valencia de Alcántara, a rural town of roughly 6,000 inhabitants, 80 km West of Cáceres and North of Badajoz. The spatial opportunities were very clear, as the Junta de Extremadura asked for inspiring concepts for the city as a whole and especially for a number of vacant or largely underused buildings in the centre – a former slaughter house, a cultural centre, a foundation buildings almost in ruins, and the fortress that overlooks the town.
The rhythms were to be found in the imbrications of scales, from the architectural to the urban and regional, against the backdrop of elsewhere also well-known problems, such as a declining economy, the rural exodus, the demographic change and the question of the future of agriculture. The teams tried to engage dynamic interactions between the conceptual approach, the local situation and the different actors & stakeholders, and to transpose them in a storyboard, from macro to micro scale, and vice versa.


The New Local System
Download the PDF here



"The new local system" is an investigation of the current and possible future synergies between several phenomena: the relatively high percentage of unused or only part-time used houses; the considerable number of unemployed construction workers; and the wish of the municipality to improve the image of the town. By the installation of a locally-based interchange system, declined in a program for teaching, for construction and renovation, for participation in the cities promotion or artistic expression, it addresses the question of the organisation of a low- or even no-budget economy in a remote region of an industrialised country and proposes to give the town centre a new dynamic out of its own resources, both material and human.
Download the PDF here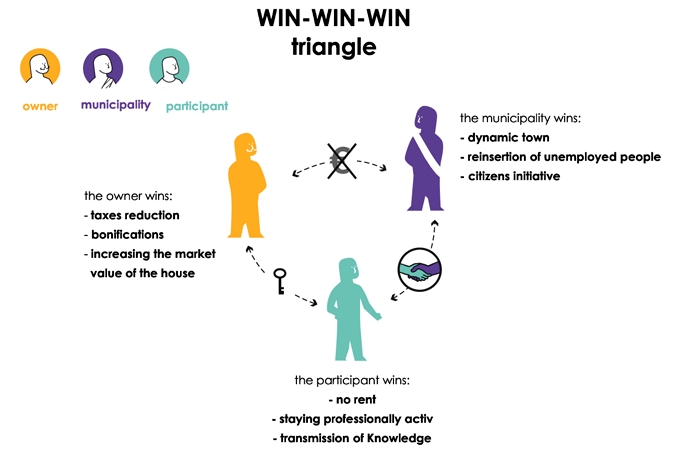 See other projects on the same site:
See the other sites: