The Territorial Campus
Workshop Pavia (IT) - "Adaptable Campus-City" - Workshop Site 2
PARTICIPANTS:
Ramon Bernabe Simo (ES), Tomáš Labanc (SK), Winner in Amstetten (AT) with "Open"
Javier Cortina Maruenda (ES), Runner-up in Don Benito (ES) with "Shadow"
Joaquín Millán (ES), Runner-up in Kuopio (FI) with "Somewhere Over The Train Flow…"
Roberto Alesi (IT), Serafino D'Emidio (IT), Runner-up in Milano (IT) with "Porto Agricolo"
Carmen Largacha Polo (ES), Juan Marcos Rodríguez Díaz (ES), Runner-up in Gjilan (KO) with "Welcome to Urban Wellness" and in Regionale 2016 (DE) with "Kein land für alte Männer"
Danilo Chiesa (IT), Runner-up in Vila Viçosa (PT) with "Tupperware Party"
Marco Corazza (IT), Giulia Minini (IT), Sara Saggiorato (IT), Daniele Torresin (IT), Runner-up in Wien-Kagran (AT) with "Monument in Fertile Country"
Coach: Benrd Vlay (AT)
Assistants: Matteo Locatelli (IT)
SITE 2 - THE NAVIGLIO: A CHANCE OF COEXISTENCE BETWEEN STUDENTS AND CITIZENS
Large-scale infrastructures are not only the primary condition to network a territory through a system of links. More and more infrastructures have converted to important spatial spheres for different kind of activities and programs. Being part of the historical Lombardian system of naviglios (i.e. canals), the Naviglio Pavese represents an outstanding infrastructural project that provides the perfect example for testing modes of adaptability through which this infrastructure can become a space that fundamentally transforms the meaning and performance of a city, or even a region. The territorial scale of the Naviglio Pavese clearly provokes the tension between regional logics and local impacts. This unavoidable ambiguity becomes productive if we consider the context of recent urban transformations in times of shrinking resources. The disappearance of large-scale production complexes in city areas, the growing importance of sustainable and more efficient mobility-systems, new models of civic initiatives and the increasingly dominant role of nature and public landscape as identifying elements give waterline infrastructures such as the Naviglio the potential to fundamentally change urban conditions, which is a central concern among young architects.
The results of the Pavia workshop addresses this concern in very specific ways: "Gran Pavia – the Territorial Campus" focuses on the added value through local and regional cross-programming; "Ride & Park" reveals the extraordinary potentials of change that can be triggered by a more sustainable concept of mobility; "The Sleeping Beauty" suggests a new geography of sharing across the boundary of the Naviglio through a radical intervention in the university heritage of the city.


The Territorial Campus
Download the PDF here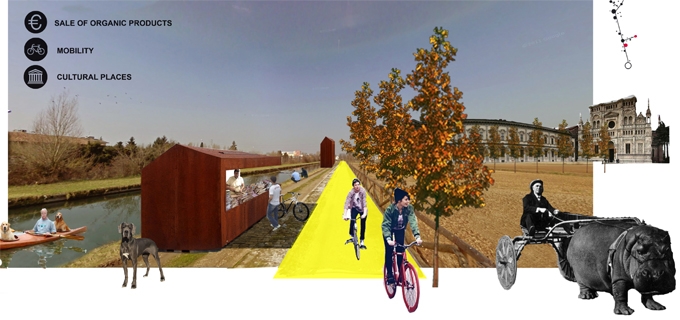 On the territorial level the project detects a series of places along the canal between Milano and Pavia: new facilities, existing structures (Cascine, abandoned factories), and tourist attractions are developed as different Genius Loci for a new campus system, short-circuiting the educational sphere of academia with local practices of everyday life such as specific agriculture (rice!), energy production, commuting, living and working. This amalgam of programs forms the "Territorial Campus", which will not only extend the syllabus for the students, but also reposition tourism within the manifold migratory rhythms of international exchange programs, weekend travellers, business people, pilgrims, living-working commuters and, last but not least, all kind of tourists, who will be seduced by a unique hybridized landscape strip: the "Territorial Campus" of the Naviglio Pavese.
On the local level, in Pavia itself, the canal converts to a highly attractive car-free public spine: intermodal nodes and attractive radial routes reorganize Pavia's traffic and suggest a bike city in which any place can be comfortably reached without a car in a couple of minutes. Living & studying opportunities shall activate and cross-weave places along the Naviglio, adding new bridges. The canal's water basins become atmospheric squares whose 24-hour-rhythms reflect the future bandwidth of desires at the Naviglio Pavese, making it a unique of confluence of Territorial Campus and City of Pavia.
Download the PDF here


Territorial Scale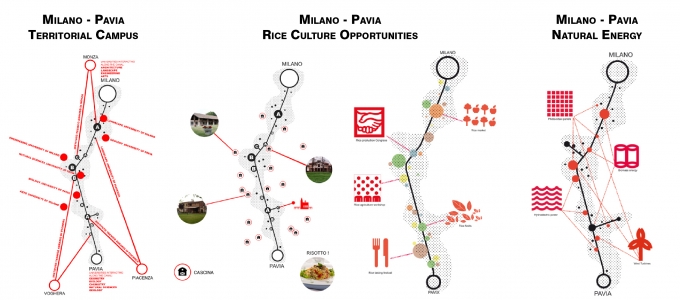 Local Scale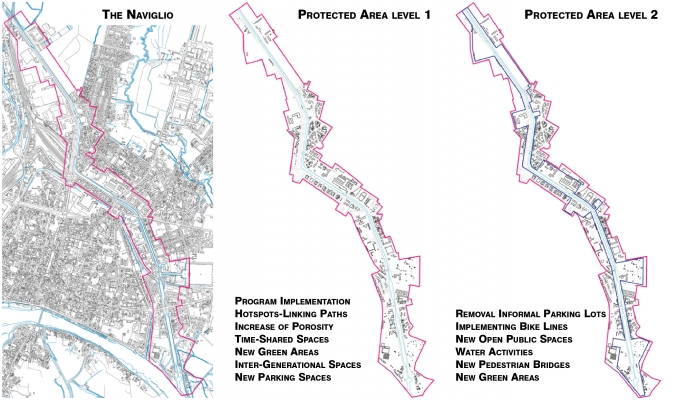 See other projects on the same site:

See the other sites:
- Creating an Inter-Campus Dynamic Axis
- Sharing the Ticino River: Sports and Leisure