TEAM DATA
Team Representative: Mickael Papin (FR) – architect; Associates: Antoine Carel (FR), Kikyun Kim (KR), Pierre Silance (FR) – architects
8 allée Diane de Poitiers, 75019 Paris – France
+33 6 95 45 87 25 – contact@c-l-u-b.fr – www.c-l-u-b.fr
See the complete listing of portraits here
See the site page here

A. Carel, P. Silande, M. Papin and K. Kim
INTERVIEW
1. How did you form the team for the competition?
CLUB is a four-member team based in Paris. Besides our work within architecture firms, we have been thinking together for a few years about the evolution of the city through various competitions for ideas.
2. How do you define the main issue of your project, insisting on how you answered on this session main topic: adaptability and urban rhythms?
The problem is to deal with the question of the car as part of the urban redevelopment of the area and to consider it as a structural point of the project and not as a constraint.
In term of adaptability, the car is crystallizing strong constraints you cannot set aside during the development of the project. Keeping in mind that the number of cars tends to decrease in a near future, the question is to know how to concretely anticipate the adaptability of those soon useless parking lots.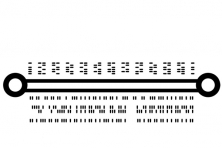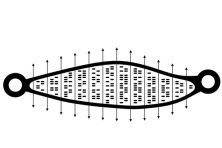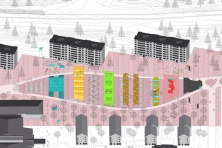 3. How did this issue and the questions raised by the site mutation meet?
The issue is how to reveal the potential public spaces around Nynaswagen. The project turns around two main data: the road infrastructure creates a physical barrier and a significant number of parking lots have to be kept on site for the needs of existing dwellings and shops.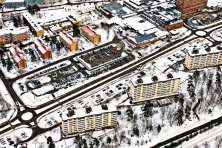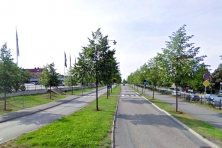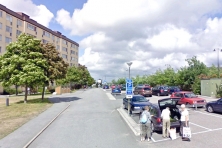 4. Have you already treated this issue previously and could you present some reference projects that inspired yours?
This question - the adaptability of the space given to cars - is significant in several of our projects in various urban contexts: commercial or industrial areas, business parks, and detached house residential area. Rather than the usual solution to create underground car park, which is at the same time expensive and not much adaptable, we focus on alternative solutions such as mutualisation of the parking lots between different programs, superposition with other programs or integration of the parking lots in the thickness of the buildings.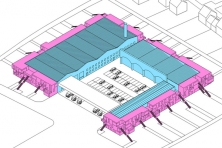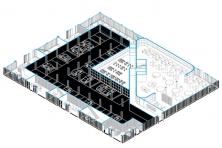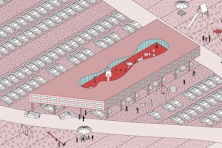 5. Today –within the era of an economic crisis and sustainability– the urban-architectural project should reconsider its production method in time; how did you integrate this issue in your project?
The "Traffic Island" project is a process to reactivate the public spaces more than a definite master plan of the area. Its voluntarily indefinite shape is able to absorb evolutions, according to land constraints and opportunities. The need for new built-up area didn't appear to be at the heart of the initial request, but the urban structure of the island could support a much more important densification.
6. Is it the first time you have been awarded a prize at Europan? How could this help you in your professional career?
Yes, it gives us the opportunity to speak about the project and engage in a discussion on those urban themes, which are at the heart of our reflection.