TEAM DATA
Team Representative: Sebastian Sattlegger (AT) – architect; Associates: Bernhard Mayer (AT) – architects; Clara Linsmeier (AT) – student in architecture
Afrikanergasse 14/11, 1020 Wien (AT)
+43 650 7874761 - info@sml.wien – www.sml.wien
See the complete listing of portraits here
See the site page here


B. Mayer, C. Linsmeier & S. Sattlegger

VIDEO (by the team)

INTERVIEW
1. How did you form the team for the competition?
We met while working as Student Assistants at TU Wien's Research Unit for Urban Design. During that time, we worked together on many tasks, though never on a design-project. Europan seemed the perfect opportunity to finally do so.


2. How do you define the main issue of your project, and how did you answer on this session main topic: the place of productive activities within the city?
The city of Weiz is situated in the productive landscape of Weiz-Gleisdorf. This complex system of diverse spaces which, in our opinion, demands a holistic, process-oriented planning approach. By the construction of a new bypass, Gleisdorfer Straße loses its function as Weiz's main transit route. We saw this change in meaning as an opportunity not only for the streetscape itself, but in particular for the contiguous neighbourhoods. For this we defined a set of emerging topics, that can be tackled to transform the whole area. Based on these topics, we conceptualized the nearby Weizbach river and its surrounding greenspaces as a linear park and together with the transformed Gleisdorfer Straße a new offer of public space within the productive landscape is created.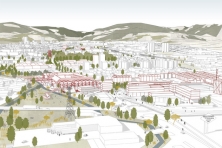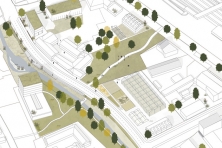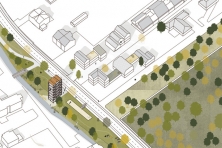 3. How did this issue and the questions raised by the site mutation meet?
The goal of the process was to create a manifold part of town, whose neighbourhoods are connected by two linear elements: a transformed street and streetscape, and a continuous park along the Weizbach river. Thereby, this area takes a special role in the productive landscape as a dynamic place, where (factory) halls and lush gardens can coexist, where car wash can meet villa, a place that can quickly and easily permit changes, where voids can still exist and new urban patterns become possible.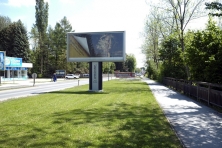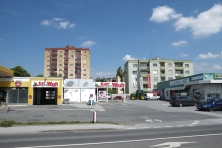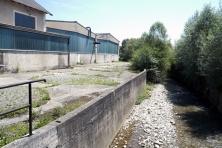 4. Have you treated this issue previously? What were the reference projects that inspired yours?
In their theses Bernhard and Sebastian both dealt with issues concerning the urban fringe. Bernhard first approached the topic conceptually and then applied different interventions on a specific site at the urban fringe of Wien. Sebastian designed an overall strategy for the transformation of the peri-urban surroundings of a major arterial road into an integrated part of Salzburg.
Besides our personal works, there were no specific projects we used as references during our work. Instead we rather looked for terms and concepts to read and describe the spatial context of Weiz; "Cittá Diffusa", "Island" and "Archipelago" being the most significant to us.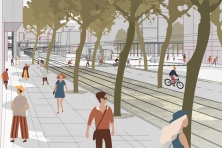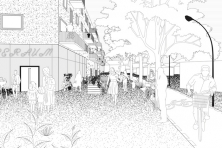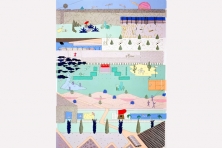 5. Urban-architectural projects like the ones in Europan can only be implemented together with the actors through a negotiated process and in time. How did you consider this issue in your project?
We worked on a process design that provides for all actors to be involved in the developments from the very beginning and to participate in the process to varying degrees (information, opinion and co-decision). In a conscious-making process, and as a first intervention, the local community is to be made aware of the space made available by the change in character of the street. The next step of identifying needs goes hand in hand with making the long-stretched green and street space visible and highlighting its qualities. In addition to a cooperatively developed "Stadtteilplan Gleisdorfer Straße" and the establishment of a temporary planning participation office, the methods include the involvement of companies, associations and the population in workshops and other public events. These events should aim to raise awareness for the abundance of temporarily unused spaces, the dominance of car traffic and already existing spaces of unique quality, that are inaccessible or invisible now.


6. Is it the first time you have been awarded a prize at Europan? How could this help you in your professional career?
Yes, it's the first time we have participated at Europan and thus also the first time we have been awarded. On the one hand, this gives us motivation to continue working on similar topics, and on the other, we would also be really interested in contributing to the further development of Gleisdorfer Straße in Weiz.
TEAM IDENTITY
Office: SML
Functions: Architecture
Average age of the associates: 30 years old
Has your team, together or separately, already conceived or implemented some projects and/or won any competition? If yes, which ones?
No.