Collaborative Follow-Up Process in E12 Wien (AT)

After the results announcement in Dec. 2013, the Winner and Runner-up teams –respectively SLLA and Arenas-Basabe-Palacios – were invited to participate in the implementation stage: SLLA developed a masterplan from their winning idea and will implement part of the project, and Arenas-Basabe-Palacios will develop a project of 60 housing units.


A cooperative planning process was launched with both teams to define the masterplan of an area of 8 ha and 120,000 sqm built (density 1,5). This process was carried out through workshops with a multidisciplinary team: architects, urban planners, landscapers, mobility experts, etc. During the design process, this extended team was in permanent contact with the neighbours and representatives of the institutions involved on the site: the Wien City Council (MA21), Sozialbau AG and Europan Österreich.
The common process resulted in a diverse, complex fabric, open to different scales of investment. In a gradation of density from its edge with Siemens industrial area, buildings decrease from big scale to the small scale of single-family dwellings. Buildings of multiple sizes (XL, L, M, S) are arranged on each side of a large linear park with a pedestrian accesses network, freeing the new neighbourhood from the presence of the car.
A public presentation was organised in 2015 and the site was divided between different developers and architects. The result of this cooperative planning process was the approval of the masterplan by the Municipality of Wien at the end of 2016.
Currently SLLA is preparing the planning documentation for one block with 4 buildings with 90 housing units, equipment, parking, landscaping, for a total floor area of 12,000 sqm. The building process is expected to start by April 2018.
Arenas-Basabe-Palacios is now associated to a local partner –Soyka-Silber-Soyka– and they are currently defining a project of 60 housing units arranged in 3 buildings.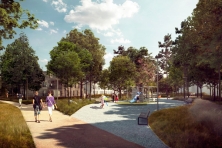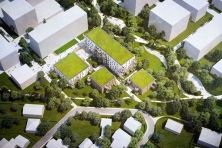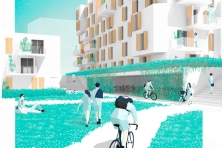 View the winner project by SLLA – Cluster/Streetscape
View the runner-up project by ArenasBasabePalacios – Urban Software