The Synthetic Site Folder and Site Brief are available for free.
Please register and login to access the Complete Site Folder.
Data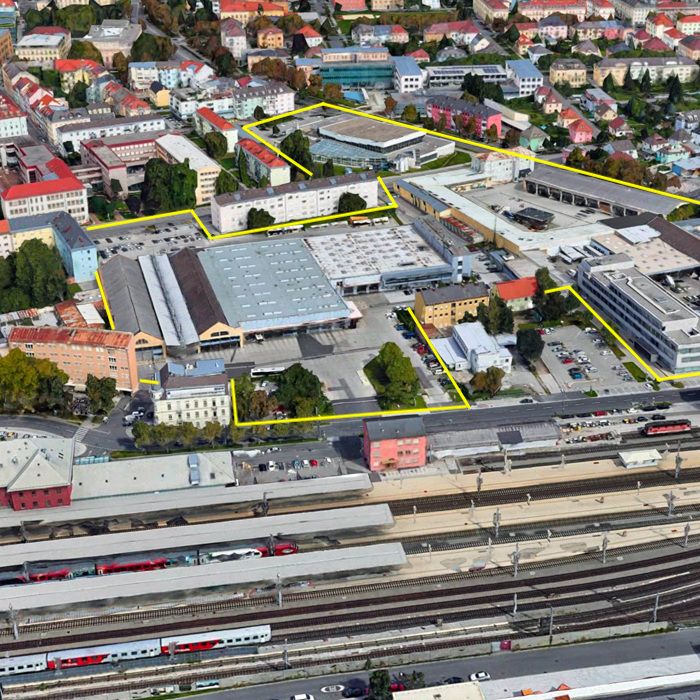 Klagenfurt (AT)
Scale L urban and architectural
Team representative urbanist & architect
Location Klagenfurt, Austria
Population 101,403 inhabitants
Strategic site 66.4 ha - Project site 6.4 ha
Site proposed by City of Klagenfurt
Actors involved City of Klagenfurt, Stadtwerke Klagenfurt, KMBGmbh, Autowelt Sintschnig, Chamber of Commerce
Owner(s) of the site Stadtwerke Klagenfurt, KMBGmbh, Autowelt Sintschnig, Chamber of Commerce
Commission after competition urban development plan as base for further steps. Possible involvement in architectural implementations in succession
More Information
Urban City Strategy
Klagenfurt is the southernmost regional capital of Austria, on the shores of a large lake. Paired with a continental climate – hot summers and cold winters – it is a popular destination for sports and tourism. For Europan 16 Klagenfurt offers its most important site in the city today. Within the next five years a new trans-European high-speed rail infrastructure will bring another dimension of connectivity to the city. A missing link along the expansive Baltic-Adriatic corridor will be closed and Klagenfurt will become one of the stops on this route. The E16 site is at the core of this prospect, located next to the main station. New possibilities will derive from this endeavour generating an urban transformation process in the greater area. The E16 site will be its first cornerstone with the potential to ground this unique opportunity. It will serve as a pilot project and will set the frame for a future development – expectations are high! …
Site Definition
The site is situated between the city centre and the railway station, both only a stone's throw away. One could say between the buzz of arrivals & departures and the buzz of a centre inviting to stay. Wedged between these particularities, the site can be interpreted as an interface that takes advantage of these dynamic places. Embedded in a context of educational institutions and administrative services, it is a prime location for a diverse mix of uses, serving this particular neighbourhood. Combined with a range of housing and making use of the nearby mobility hub, the ambition is to establish a well-connected, pedestrian-friendly, and open quarter
How Must Metabolism and Inclusivity Be Developed and Connected?
Accessible and just infrastructure is a key element to enhance exchange and join a network of broadening (personal & economic) choices. The new high-speed infrastructure serves as the trigger for this development, attracting different groups of people both from the town and from further afield. Thus, the site bears the potential of becoming a melting pot of ideas with open exchange being its driving force.
The social composition of the area will be vital. Culture and a maker space are anchored on site already. Numerous schools, (re-)training centres and semi- public institutions are located in the neighbourhood, bringing the topic of "new learning" and "new apprenticeship" to the table. How can learning become multi-dimensional thereby including all its audiences across professions & age and its related uses? What does a spatial expression operating in a synergetic mode for working, living, making, learning, exchanging, and enjoying look like? The quarter asks for typologies where all this can happen simultaneously, where generations and cultures can take care of each other, where spaces can be shared according to current needs and where mentors and mentees can interact.
With travel time reduced dramatically, Klagenfurt will be put on the map for people who value living in healthy surroundings with nature, education, and culture, and at the same time see the chance to have interesting work prospects close by. The site's central location clearly prioritizes pedestrians and slow traffic and invites green strategies with as much open soil as possible. Paired with its commitment to openness and exchange the E16 site is setting the scene for a quarter inviting and accessible to all with parameters working to- wards a context of an inclusive manner.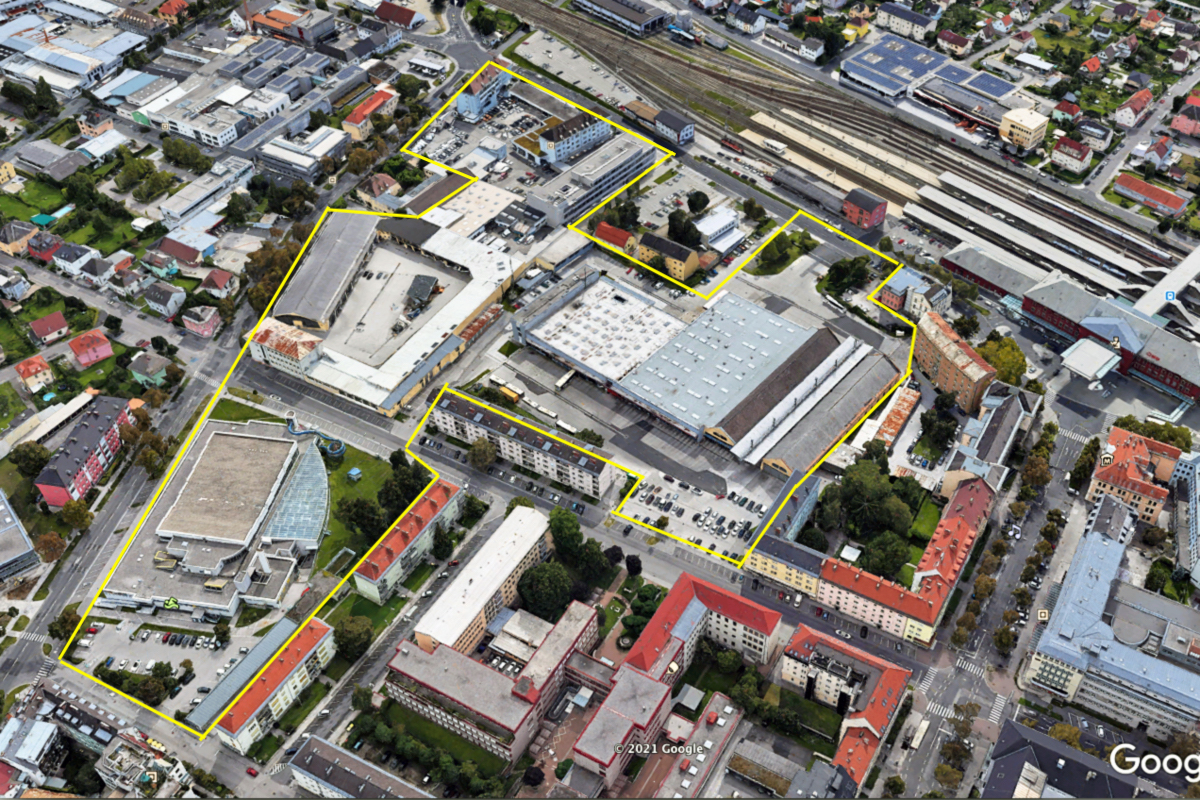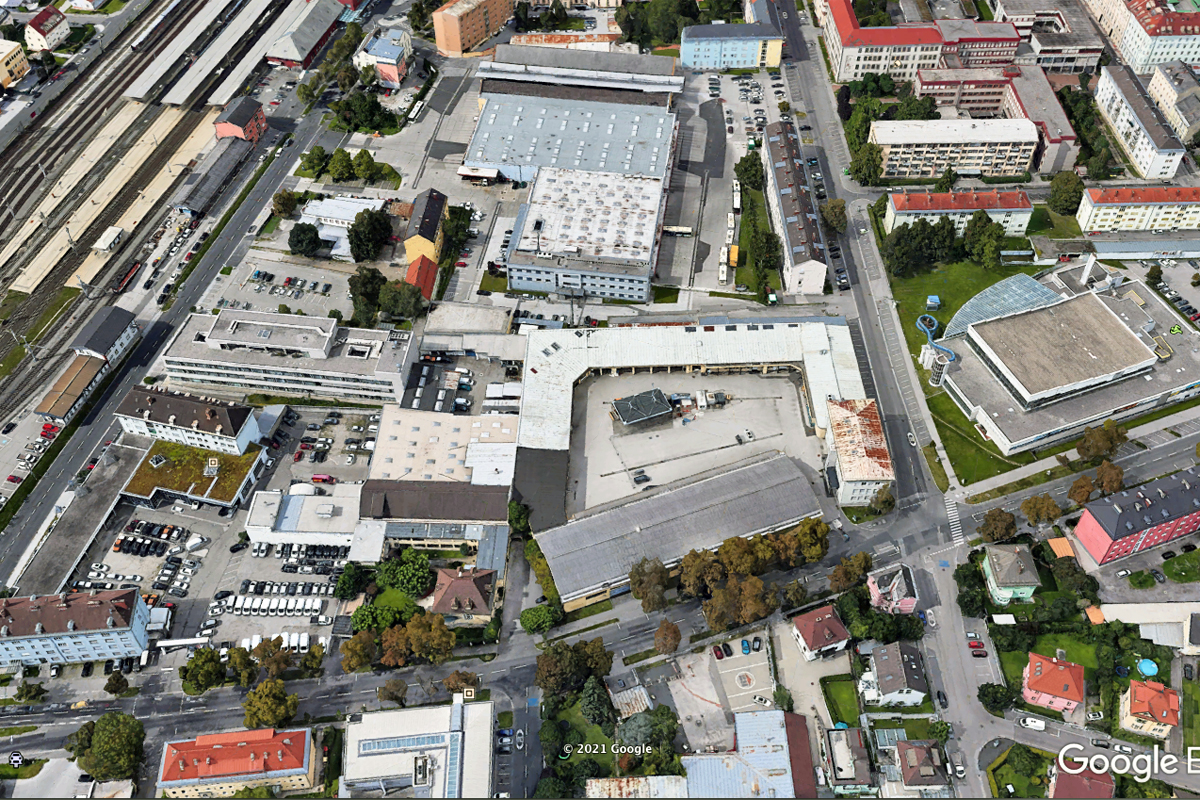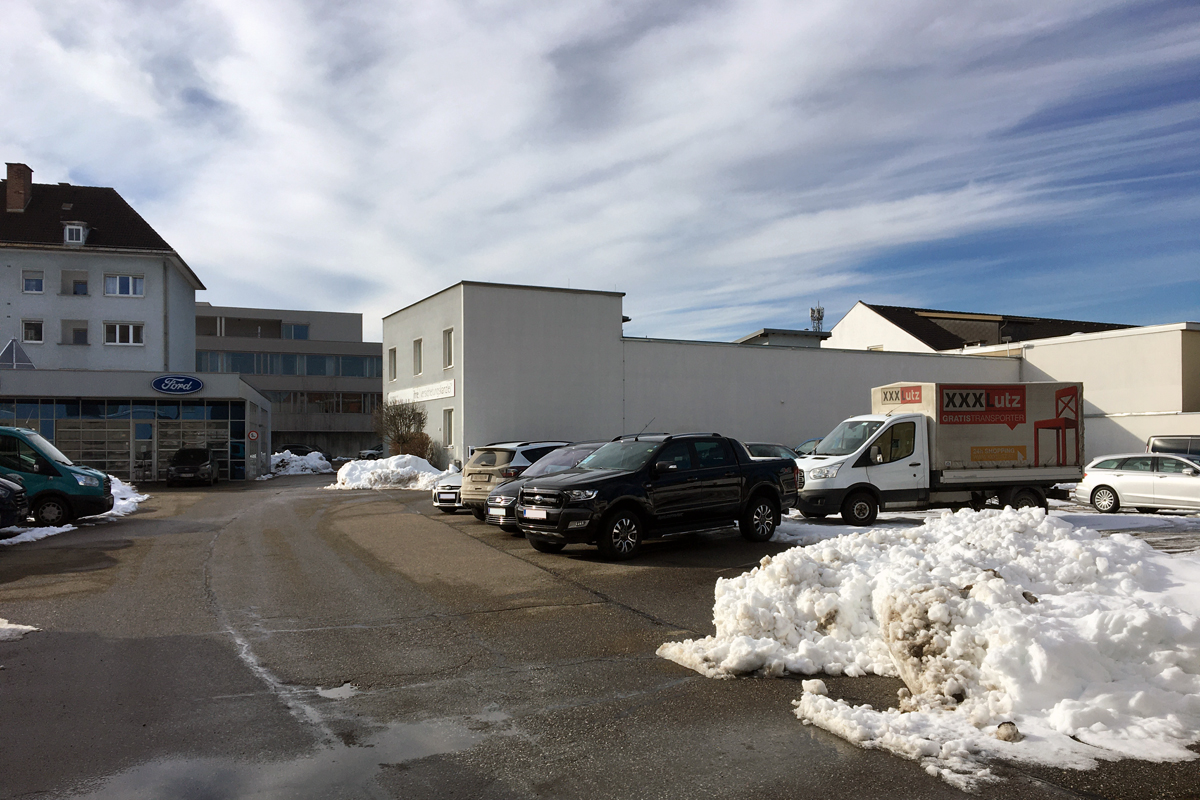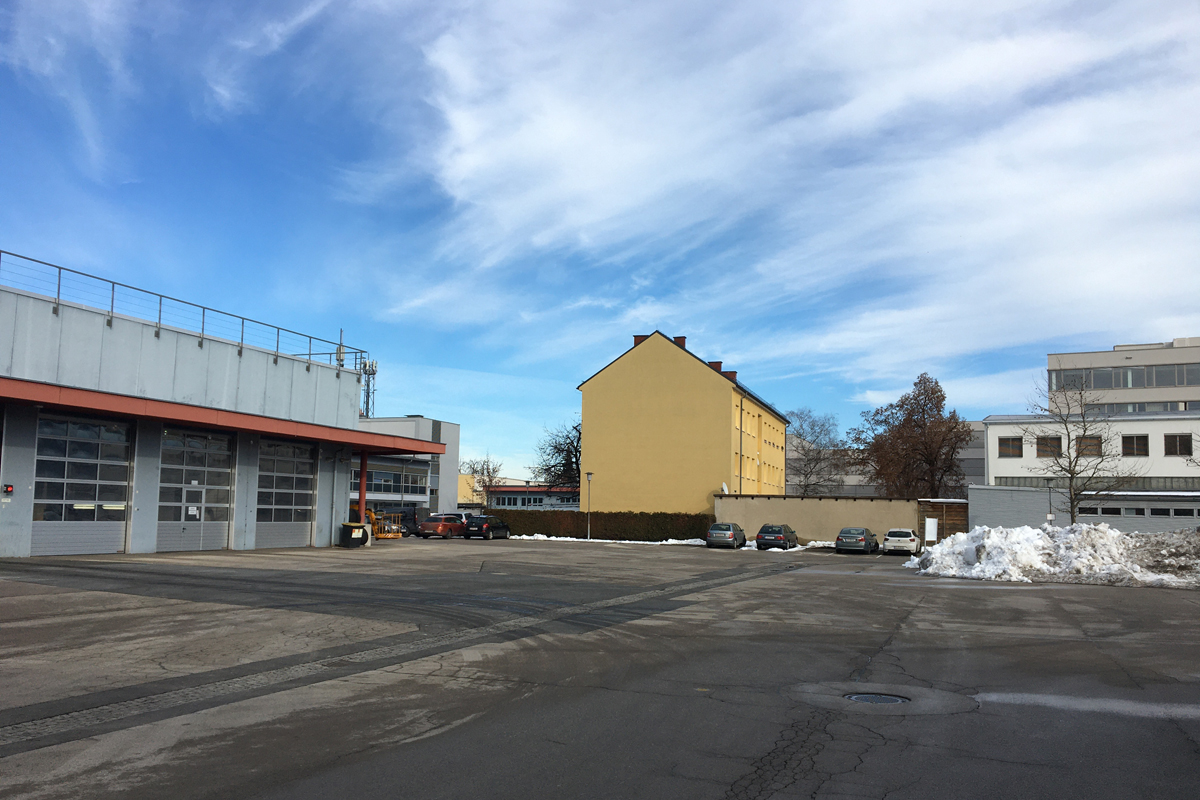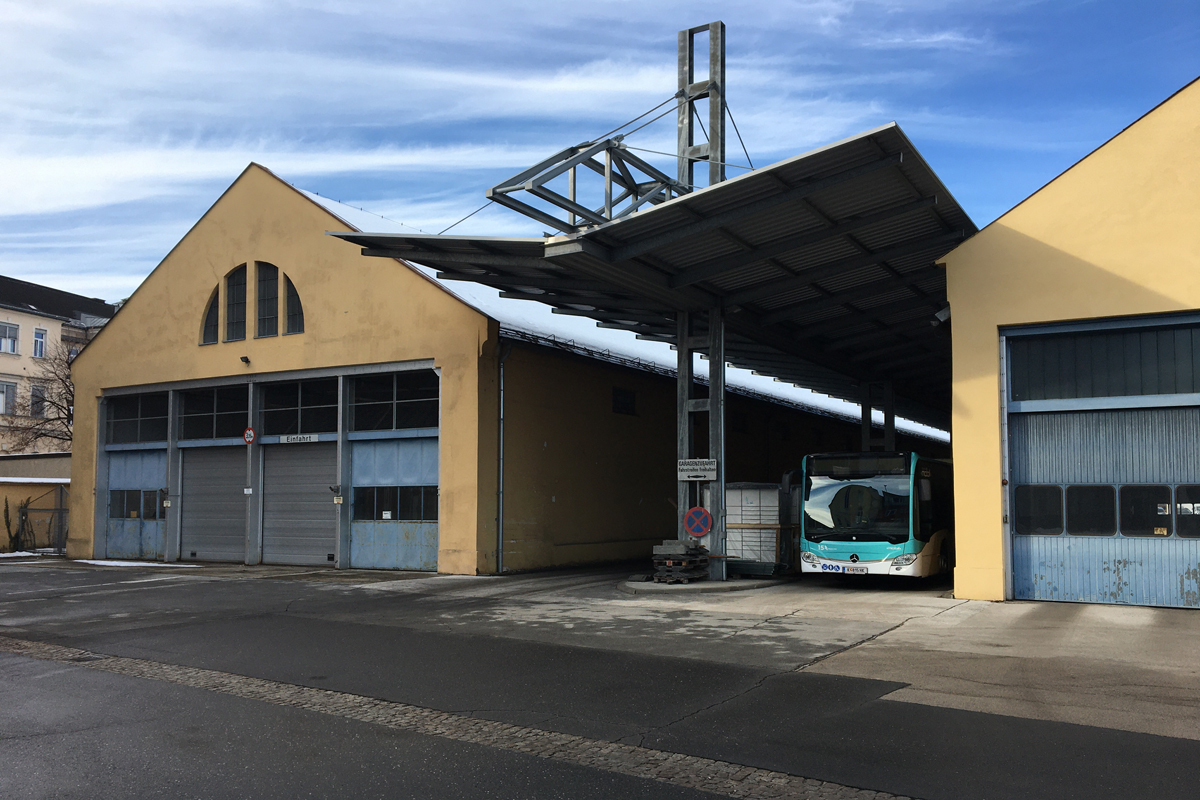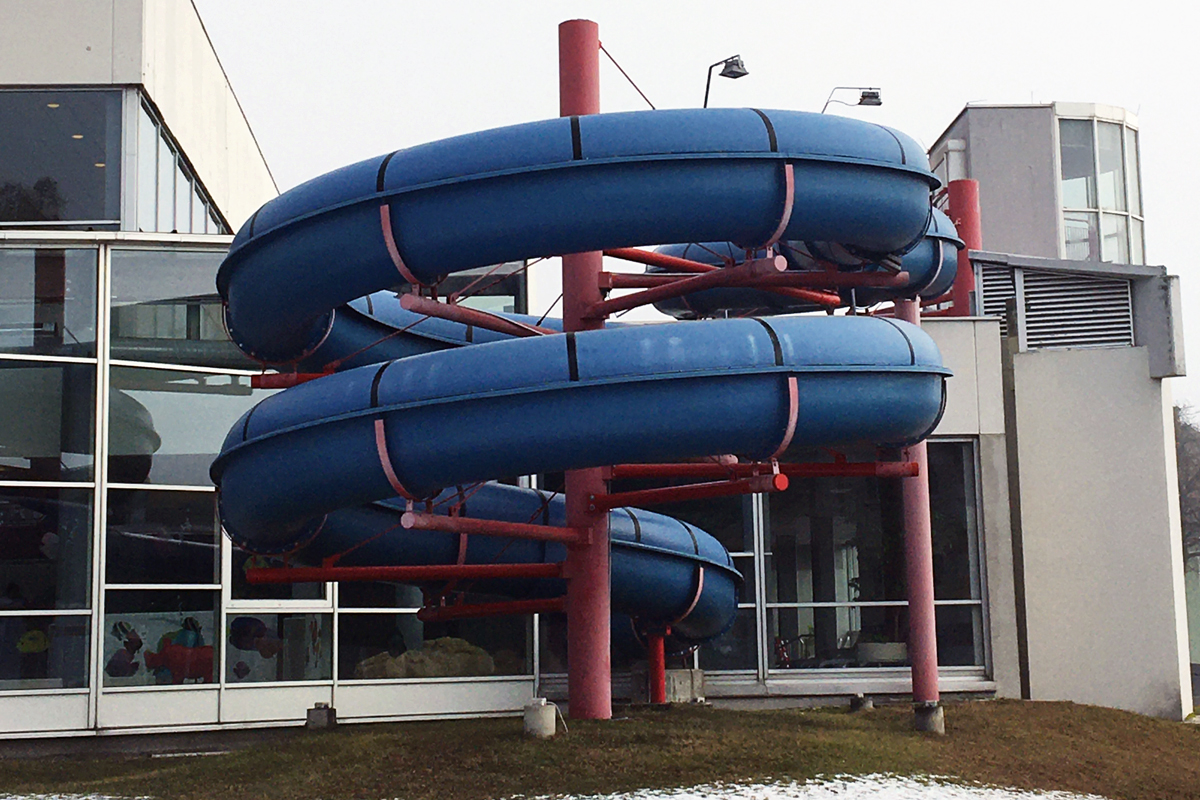 Questions on the site
When a building is demolished within the project site but adjacent to another property not included in the project site, is it possible to replace the building in the same location, then attached to the existing building?
Yes, this is possible, if the newly built structure is not bigger than the one demolished. In this case, the wall facing the neigbouring site must not have any openings.
Additional explanation:
Our project site consists of four plots. Plot I, III and IV can be seen as one site, where building structures are allowed to cross plot-boundaries. To the neigbouring sites, the rules for distance apply.
Plot II is not directly linked to the other plots, so here the rules for distance to neigbouring sites apply on the entire plot.
When will the additional documents mentioned after the site visit become available? (1. Plans & Sections of Bus Garages, Maker Space & Public Pool 2. Information about the structural condition of existing buildings 3. Noise Map of Site 4. Number of inhabitants on Plot IV-Autohaus Sintschnig)
ad1) Maker Space: Available plan material has been uploaded: AT-KLAGENFURT-PS-M4a, AT-KLAGENFURT-PS-M4b
Bus Garage: Plan material has been uploaded: AT-Klagenfurt-PS-M6.pdf
Public Pool: Plan material has been uploaded: AT-Klagenfurt-PS-M7a_Siteplan1_100.tif,  AT-Klagenfurt-PS-M7b_Groundfloor1_100.tif, AT-Klagenfurt-PS-M7c_Basement1_100.tif, AT-Klagenfurt-PS-M7d_Sections1_100.tif
ad2) No structural report can be made available.
ad3) Noise Map has been uploaded: AT-KLAGENFURT-PS-M5
ad4) Most people have already moved out. Currently there are approximately only 10 people still living in the house.
The brief is mentioning spaces for 800/1000 people between living, working and learning. Do we have to design residences for all the 1000 people? How do we have to approach this division? Which percentages of people will need accommodation, working spaces and learning spaces?
It should be a mix of spaces and functions for 800 to 1000 people in total. 50% of this mix should be dedicated to housing. This is a guideline only.
It depends on your concept which type of spaces or functions you are providing on the site.
20% of the ground floor will be dedicate to common functions. Can you be more specific about it?
Again, this is a guideline only. Of the built structure on ground floor 20% should be of communal function. Which type of function that is, is up to your concept. The city is looking for inspiring ideas and proposals and therefore wants to allow for a certain flexibility.
Parking spaces: do we have to reintroduce the amount of parking lot that we will take out from the actual situation? Is there a specific urban regulation to respect for the amount of parking lots?
The brief asks for a mobility concept that thrives from the close proximity to the train station. Individual parking/delivery spaces have to be considered, but the focus should be on alternative mobility strategies. So no, the amount of parking spaces currently available on site doesn't need to be re-introduced.
This site is meant to become a pilot project for sustainable development and therefore is looking for new solutions. The actual regulation doesn't apply here. Convince with a new mobility concept!
Do we have any specific building regulation to follow? Where can we find them? For example distance from boundaries, distance from neighboring buildings, amount of green needed etc...
See brief page 23;
We would like to remind you that the focus is about an overall concept and a holistic idea. Sure, it should be buildable and a "healthy understanding" on distances is assumed, however in the process following the competition minor adjustments will be necessary anyways.
The competition programm mentions that the different owners on the site means the project will be developed in phases. Can the ownership of the 4 plots be specified in more detail?
* Plot I (remise): owner Stadtwerke Klagenfurt / Klagenfurt Mobility GmbH
* Plot II (Public indoor-pool): owner City of Klagenfurt
* Plot III (Maker Space): Carinthian Chamber of Commerce, Klagenfurt
* Plot IV (Car Dealership Sintschnig): Privat investor FSF Real Estate (Autohaus Sintschnig GmbH)
Please see also Question 3 & 6 from the site visit report. All site owners are interested in one holistic approach. Together they have established a consortium, where each party complies to an overall framework. Mechanism for negotiating differing densities throughout the site are in place. The europan teams are asked to think freely, without trying to put an equal amount of built volume on each of the 4 plots.
Is it possible to have a document representing the public parcels within the STRATEGIC SITE ?
Property plan of strategic site - Plan material has been uploaded: AT-KLAGENFURT-SS-M9
Regarding plot I, are the two rectangular buildings with flat roof part of the bus deposit ?
The building directly attached to the old structure in the east, is currently used as a bus garage (see image AT-KLAGENFURT-PS-P01 and AT-KLAGENFURT-PS-P07). The second building further east is a mixture of Garages on ground floor and Offices on the first floor. Additional images are uploaded: AT-KLAGENFURT-PS-P41.JPG and AT-KLAGENFURT-PS-P42.JPG and marked in the overall map AT-KLAGENFURT-PS-P00a.pdf
AT-KLAGENFURT-PS-P41.JPG shows the second building east with a flat roof. Here you can see garages on ground floor and offices on first floor.
AT-KLAGENFURT-PS-P42.JPG shows the office entrance.
Carrying on a project for this specific site seems difficult with no plans of the existing buildings. Is it possible to add the plans (in dwg version) to the shared folder ?
please see additional plan material as mentioned in one of the question above.
Who is using the garages on Plot III ? (behind the makerspace)
Currently it is used by people working at the maker space compound; sometimes this space is used for outdoor presentations.
Regarding the makerspace, is it possible to have an indication of the exact footprint that it is taking within the « c shaped » building and the long alley on Lastenstraße ? From the pictures, it looks like some of it is a covered parking lot
Plan material for Maker Space has been uploaded: AT-KLAGENFURT-PS-M4a, AT-KLAGENFURT-PS-M4b
Please see also Image AT-KLAGENFURT-PS-M4c where the current maker space is indicated.
Is it possible to have a plan of the existing bike lanes in klagenfurt ?
In the site brief of Klagenfurt the scale required for the ground floor of the whole project site plan is 1:500, however it does not fit on an A1 format. Is it possible to use a larger scale so the whole drawing fits on one panel? 

 
Yes it is!
We checked it again and would suggest to all participants to use 1:750 for the groundfloor plan of the whole project site. Necessary seccions and elevations may stay in 1:500.
This site is connected to the following theme
Revitalization
Transforming from the Infrastructures


On these sites, the impetus for the transformation comes from the territory and from the use of all the resources (natural, ecological, infrastructural) to regenerate them.
Here, the starter for a change is the evolution of the networks integrating a new logic of mobility.
Questions on the site
Fr. 18 June 2021
Deadline for submitting questions
Fr. 2 July 2021
Deadline for answers
Before submitting a question, make sure it does not already appear in the FAQ.
You have to be connected –and therefore registered– to be able to ask a question.
Please ask questions on sites in the Sites section.
Please ask questions on rules in the Rules section.
If your question does not receive any answer in 10 days, check the FAQ to make sure the answer does not appear under another label or email the secretariat concerned by the question (national secretariat for the sites, European secretariat for the rules).