The Big Bright Green Pleasure Machine
Zwickau (DE) - Mention Spéciale
DONNÉES DE L'ÉQUIPE
Représentante d'équipe: Magdalena Müller (DE) – architecte
Collaborateur: Philipp Fink (DE) – architecte
Neureutherstraße 3, 80799 München (DE)
+49 157 743 46 540 – tbbgpm@outlook.com
Voir la liste complète des portraits ici
Voir la page du site en anglais ici


M. Müller
INTERVIEW en anglais
Cliquer sur les images pour les agrandir
1. How did you form the team for the competition?
While doing the competition by myself there was always an exchange of thouhts with friends which in the end helped me with my work.


2. How do you define the main issue of your project, and how did you answer on this session main topic: the place of productive activities within the city?
The city centre of Zwickau is currently divided into three vertical strips by the structure of streets, buildings and functions. While the city center and the muldeparadies are dedicated to various purposes, the project area is structurally as well as functionally a no-man's land. The main task was to find a way to correlate the project area to the city centre and muldeparadies while avoiding simple gentrification but transforming it to a unique and exciting part of the city.


3. How did this issue and the questions raised by the site mutation meet?
Productivity became the answer to that very question. The residential buildings were lifted to the first floor to provide privacy and to open up the possibility of large continuous spaces on the ground floor for craftsmen, start-ups and manufactures. To turn the muldeparadies into a productive and enjoyable part of the city, The Big Bright Green Pleasure Machine divides the landscape into productive panels and adds some extra use to them - relaxation, sports and play as well as work. There are endless possibilities.
4. Have you treated this issue previously? What were the reference projects that inspired yours?
I have not treated this issue previously, nonetheless I do believe that a "productive city" is, to some extents, the result of sustainable urban planning and therefore it is part of my studies.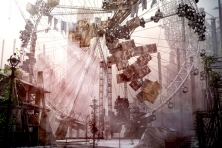 5. Urban-architectural projects like the ones in Europan can only be implemented together with the actors through a negotiated process and in time. How did you consider this issue in your project?
The key factor was to highlight and revitalize distinct landmarks as a "kick-off" for later development. My wish would be a natural, rather than a forced process, led by the people living in Zwickau.


6. Is it the first time you have been awarded a prize at Europan? How could this help you in your professional career?
It is the first time, thank you. As I have not been awarded monetarily there is not an immediate impact on my professional career. However, I think the platform did provide a stage to earn some credit amongst architects and urban planners and that might help my career in the long run.