DONNÉES DE L'ÉQUIPE
Représentant de l'équipe : Tomi Jaskari (FI) – architecte, urbaniste ; Associée : Laura Hietakorpi (FI) – paysagiste, urbaniste
Nembi Architecture & Urbanism
Porvoonkatu 19 B 48, 00510 Helsinki (FI)
tomi.jaskari@nembi.fi – nembi.fi
Voir la liste complète des portraits ici
Voir la page du site ici


L. Hietakorpi, T. Jaskari

INTERVIEW (en anglais)
1. How did you form the team for the competition?
We have worked previously together several times. We found the topic interesting and decided to participate.


2. How do you define the main issue of your project, and how did you answer on this session main topic: the place of productive activities within the city?
The competition site in Hyvinkää is quite complex but very central. We feel that the key problem and hindrance for the development of the station area is the lack of walkable city fabric around the railway station. A lot of key functions of the city centre remain detached from the core of the city centre. The rail connection in Hyvinkää is crucial for the vitality of the city centre. Thus in order to promote productivity the areas around the railway station should be of high-quality walkable urbanism with a mixed programme.
Our approach is based on a layered and well-connected walkable network of places around the station area. In our opinion, good urban designs are achieved by providing a holistic vision that takes into consideration the different layers of the urban fabric. Our proposal focused on 5 themes: 1. Network of meaningful places, 2. Prioritizing pedestrians, 3. Functional and spatial green structures, 4. Diverse program and smart solutions, 5. Unique identity. These 5 themes each form a layer of the urban fabric. By carefully weaving these layers together the Hyvinkää station area is transformed to a high-quality walkable neighbourhood that has a rich and diverse program.
This leads us to the theme of productive cities. We believe that urban form of life is productive. This means that neighbourhoods that prioritize pedestrians, have high proximity of key urban functions and that are diverse in programs form a productive platform for vital urban life. Thus productive cities are achieved by designing great urbanism.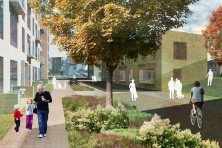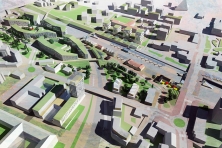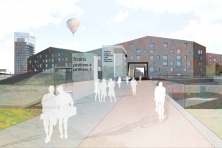 3. How did this issue and the questions raised by the site mutation meet?
We designed an urban plan for the area where the themes we presented are carefully woven together to form a walkable urban neighbourhood. The connections on the site are improved to create a pedestrian-friendly connected network between the key urban places. The new built developments each add important functions to the area, are made to enhance the human scale and have unique character. The plan is green at heart with it parks, green courtyards and green streetscapes both visually and functionally.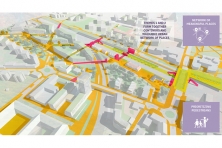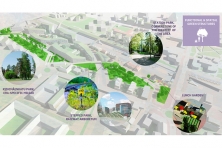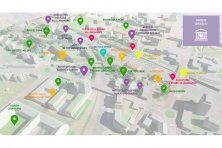 4. Have you treated this issue previously? What were the reference projects that inspired yours?
We are constantly dealing with the issue of productive, sustainable cities in our work as urban designers. Furthermore, our proposal that received a special mention in Europan 13 – Seinäjoki (FI) dealt with a similar area around the railway station. We've also been involved with a lot of urban designed focusing on areas around public transit hubs and we've dealt the issue of walkable urbanism also on a more detailed level. Thus, we have a lot to draw from as reference projects from our own work. Biggest written sources of inspiration have been the works and ideas of Jan Gehl and Jeff Speck on walkable cities. We didn´t have any particular urban designs by other designers as reference projects. It was more about combining great ideas to form a connected urban design.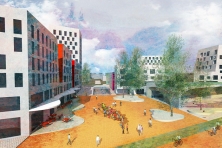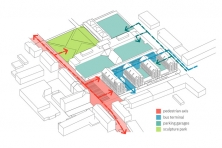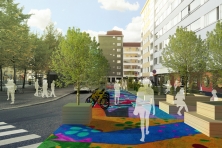 5. Urban-architectural projects like the ones in Europan can only be implemented together with the actors through a negotiated process and in time. How did you consider this issue in your project?
First of all we made a careful analysis of the projects, plans and ideas that have already been presented by the city of Hyvinkää and other stakeholders. This is important in order to make the most out of what is already taking place on the site. Furthermore, we wanted to be realistic with the feasibility of our urban design even in a quite detailed level. So even though in order to create a holistic vision you sometimes need to simplify things a bit our proposal could very well be realised as it was presented.


6. Is it the first time you have been awarded a prize at Europan? How could this help you in your professional career?
No, we have received an award and special mentions in Europan as mentioned later. But of course this will help in getting publicity and contacts especially locally here in Finland and could hopefully lead to a commission from the organizing city. Also, finished projects are always good promotion material for our team.
TEAM IDENTITY
Office: Nembi Architecture & Urbanism
Functions: Architecture, urbanism, landscape
Average age of the associates: 36 years old
Has your team, together or separately, already conceived or implemented some projects and/or won any competition? If yes, which ones?
Together as Nembi we have received a special mention in Europan 13. Tomi has received a special mention in Europan 12. Laura was a runner-up in Europan 11 with her team as an author.
Nembi was recently shortlisted among the 15 best/most interesting proposals in Sastamala town centre open ideas competition.
Laura was an author in a team whose entry was purchased in Finnoo Harbour international architecture competition in 2012 (Espoo, Finland).
Tomi has been an author / team member in his previous jobs in WSP Finland and Kanttia 2 Architects in the following competition proposals that were awarded:
- Mustasaari Sepänkylä town center, shared 1st prize, 2009, invited ideas competition (Mustasaari, Finland)
- Innovative town concept for the future, 3rd prize, 2010, open ideas urban planning competition (Orimattila, Finland)
- Sibbesborg sustainable city, 1st prize, 2012, open international ideas competition, (Sipoo, Finland)
- Nordic Built Cities Challenge – Kera challenge, 1st prize, 2016, open Nordic competition (Espoo, Finland)
- Nordic Built Cities Challenge – Nordic prize, 2nd prize, 2016, open Nordic competition, (between 5 nordic local challenges)
- Hervanta Northern Axis, 2nd prize, team leader/principal designer, 2017, open urban design and site allocation competition (Tampere, Finland)