TEAM DATA
Team Representative: Luca Petroni (IT) – urbanist; Associates: Maria Pone (IT), Francesco Scillieri (IT) – architects; Margherita Erbani (IT) – landscaper; Edoardo Fabbri (IT), Francesca Melissano (IT) – restoration architects
Contributors: Antonio Pone (IT), Miriam Di Nardo (IT) – economists
Archibloom
Via Niccolo Paganini 21, 00198, Rome (IT)
info@archibloom.com – www.archibloom.com
See the complete listing of portraits here
See the site here


M. Pone, F. Scillieri, M. Erbani, L. Petroni, E. Fabbri, F. Melissano

VIDEO (by the team)


INTERVIEW

1. How did you form the team for the competition?
Archibloom is a collective of architects, urbanists, landscape and restoration architects founded in 2019. During this competition we collaborated with two economists.


2. How do you define the main issue of your project, and how did you answer on this session main topic: the place of productive activities within the city?
Our main objective is to recover the ancient relationship that the city of Laterza had with water, as well as the other cities located on the gravine, and to use a new system of canals and flood basins to reorganize the public space and enhance the local activities. We think that our project, intersecting the cycle of water, is well connected to the idea of "Changing metabolism" challenged by the Europan topic, in addition our "hydraulic machine" crosses and meets many different situations where it can be useful to promote culture, tourism, and the event sector.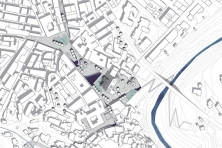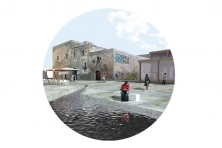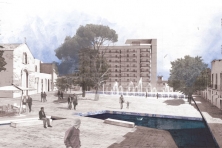 3. How did this issue and the questions raised by the site mutation meet?
Our aim was to enhance the local productivity which is connected to the site's geography and history rather than "importing" new economic activities. For this reason we studied the relationship between water, and all kind of ancient productions, such as agriculture, breeding, maiolica, leather processing ecc. We think that, at present, the city is forgetting these knowledges and techniques so we tried to create a system which encourages inhabitants and visitors to remember the value of this precious resource, especially now that climate change is creating serious troubles to our landscapes.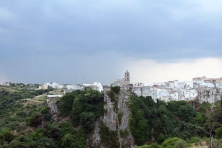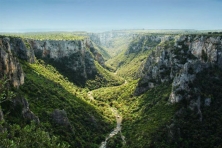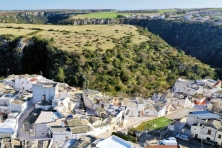 4. Have you treated this issue previously? What were the reference projects that inspired yours?
Since it was the first time for us facing this problem, we tried to study many projects that work on the topic of water and flooding. Our main references were Pietro Laureano's studies on the use of water in arid territories, in particular on the city of Matera that shares with Laterza a similar geomorphology and urban structure. The idea of a water square was inspired by the work of the dutch group of architects The Urbanisten, and to use this natural element in a different, amusing way we looked at the "Mirroir d'eau" in the Michel Corajud's project for the Bordeaux's riverside.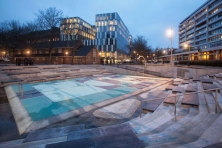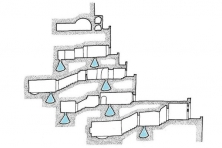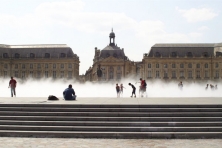 5. Urban-architectural projects like the ones in Europan can only be implemented together with the actors through a negotiated process and in time. How did you consider this issue in your project?
Our approach to this competition was deeply influenced by our small journey in the town of Laterza, where we understood that the partecipative process was fundamental to interpretate the theme of the productive cities. We wish that the interesting dialogue which was opened during our stay can be am occasion in the future to transform and enhance the beautiful town of Laterza.


6. Is it the first time you have been awarded a prize at Europan? How could this help you in your professional career?
Yes, it was our first participation and we are very proud of this award. This is a new starting point for us. Europan will allow us to meet many international architects as well as local administrators to activate an interesting exchange of ideas and opportunities for our cities.
TEAM IDENTITY
Office: Archibloom
Functions: Architects, landscapers, restoration architects and economists
Average age of the associates: 31 years old
Has your team, together or separately, already conceived or implemented some projects and/or won any competition? If yes, which ones?
We are an informal collective called Archibloom. We are planning to formalize our group in the future. Luca Petroni is and urbanist based in Rome, Maria Pone a Phd architect based in Rome, Edoardo Fabbri and Margherita Erbani are PhD students in Naples and Rome, Francesca Melissano and Francesco Scillieri work together as architects between Rome and Lecce. The Archibloom collective is formed by architects, urbanists, landscape and restoration architects, constantly trying to hybridize our skills. During Europan competition we collaborated with two economists to answer the question about the "changing metabolism" of Laterza in circular economy. Together we participated at the international competition "Kindergarten rehabilitation in Bolivia" organized by ARCHsharing, where our project was selected among the finalists. In may 2020 during the architecture festival promoted by the Mibact, we will present MAKE Roma, an installation that will be exposed in the spaces of Open House Roma. At present we don't have a common workplace but we are planning to have one in the future.