Permacultures Urbaines
"Permacultures Urbaines" - Special Mention
TEAM DATA
Team Representative: David Palussière (FR) – architect
Associate: Camille Tréchot-Jasnault (FR) – architect
Baltique. sarl d'architecture
8 quai de la Verdure, 44400 Rezé (FR)
+33 665 953 261 – bureau@baltique.archi – baltique.archi

See the complete listing of portraits here
See the site page here


C. Tréchot-Jasnault & D. Palussière
INTERVIEW
Click on the images to enlarge
1. How did you form the team for the competition?
Camille and myself have worked together since we started our architecture studies. We are both native of Anjou (FR). Our final project was located in Angers. We know the city quite well, as well as its centre and suburbs. Therefore, we immediately wanted to work on the area of Saintt Serge Nord. An area we regularly see trough the windshield of a car, when attending concerts at the Chabada nearby. We never stopped that long in the sector, the Europan contest was a privileged occasion.


2. How do you define the main issue of your project, and how did you answer on this session main topic: the place of productive activities within the city?
Before producing anything, we think it is important to produce "meaning" and rather create an atmosphere that can handle diverse and meaningful activities. This was the starting point of our project. Our aim was first to fuel the urban future with the right vocabulary. Angers wants to be a pioneer "green" city ; therefore, we wanted to explore recent innovative agricultural practices. One of these innovative practice is permaculture. It is a deliberately positive approach to environnemental question, an approach that generates hope in the future, without any moral or catastrophist injunctions. We considered the area of Saint Serge Nord as a space where soils are depleting, getting poorer and poorer. We think that this commercial area is in the same condition, as intensive agriculture is nowadays : soils are getting sterile and there is a need to enrich this precious ground spaces. We want to make productive and commercial activities more diverse and richer, on grounds, roofs, surroundings.


3. How did this issue and the questions raised by the site mutation meet?
The real difficulty in this kind of project is how to make the unprecedented emerge ? How to let the site grow its own nature, without designing everything ? As frequent visitors of cities, we like places that are unplanned, ,non-linear, suprising. Somehow, the site is in an uncontrolled situation, but a condition that is currently not very exciting for a wide audience.
4. Have you treated this issue previously? What were the reference projects that inspired yours?
This is the very first time we work on these topics. A winning project of Europan 13, Bondy's Count has been an interesting inspiration for our project. It had a subtle manner to produce a new kind of dialogue between actors with the help of a board game. A good way to provoke accidents, or unusual choices. We usually like self-organized areas, autonomous zones that carry more freshness in the city, rather than an organized urban planned sectorization.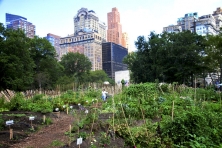 5. Urban-architectural projects like the ones in Europan can only be implemented together with the actors through a negotiated process and in time. How did you consider this issue in your project?
We tried to imagine a project, in an impressionist manner. We wanted to propose an ideal, without designing it brutally at first. It is rather a principle or a vocabulary that wants to inspire people who are deciding. We saw our project as a draft, an open concept that can be stretched or modified.


6. Is it the first time you have been awarded a prize at Europan? How could this help you in your professional career?
This is the first time we are getting a prize for the Europan competition. We see it as a potential to meet people, and learn a lot in the urban sector. We see this competition as a fresh breathe in the daily business of an architecture office. An occasion to pause, and to think about the urban future of a depleted commercial area.