A Seat At The Table
Helsingborg (SE) - Winner
TEAM DATA
Team Representative: Björn Förstberg (SE) – architect; Associates: Mikael Ling (SE), Eke Wondaal (NL), David Ottosson (SE) – architects
Förstberg Ling
Regementsgatan 20, 211 42 Malmö (SE)
+46 730556559 - info@forstbergling.com – www.forstbergling.com
See the complete listing of portraits here
See the site page here


E. Wondaal, B. Förstberg, M. Ling, D. Ottosson

VIDEO (by the team)

INTERVIEW
1. How did you form the team for the competition?
We are friends and collaborators and were all highly motivated to work with Helsingborg in particular.


2. How do you define the main issue of your project, and how did you answer on this session main topic: the place of productive activities within the city?
Our main issue is work and play. We believe that finding new ways to cross-pollinate work and play will allow for a richer and more deeply connected city. Work and play are not as opposed as we sometimes imagine – just ask children building a tree-house, or the game developers that have created Sweden's most booming industry.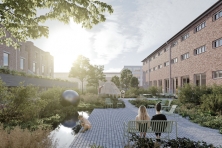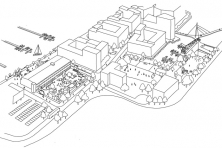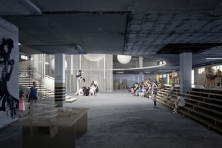 3. How did this issue and the questions raised by the site mutation meet?
Helsingborg's site brief introduced the question of democracy, and provided a building with historic significance, in a region with a famous craft tradition. The interplay of these parameters led to a more clearly defined proposal, and they seem inextricably linked. Strong cultures of craft and collaboration are what allow for productive innovation. These cultures are something we can only develop together. And just as libraries are spaces that develop intellectual cultures, the city should provide spaces for the development and demystification of productive and craft cultures.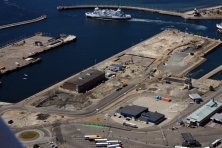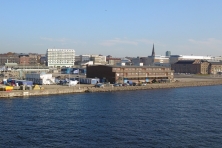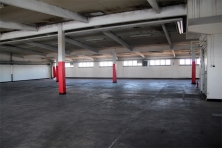 4. Have you treated this issue previously? What were the reference projects that inspired yours?
We have all explored the city in our practices. During 2019, David curated an exhibition on urban playscapes for Form/Design Center, and the research for that exhibition directly informed parts of the proposal. A specific project that greatly inspired us was Kulturhuset (1974) in Stockholm, designed by Peter Celsing. In Celsing's winning proposal, the building is a tablature, that allows for free improvisation, while a spiral staircase is a sculptural element that contributes to the building's specificity.


5. Urban-architectural projects like the ones in Europan can only be implemented together with the actors through a negotiated process and in time. How did you consider this issue in your project?
How to develop a project that is open to dialogue was a primary concern in our design process. Our hope is that the proposal provides both a specific vision and a productive interface for collaboration.


6. Is it the first time you have been awarded a prize at Europan? How could this help you in your professional career?
Yes. We hope the Europan process might lead to a successful collaboration with the city of Helsingborg.
TEAM IDENTITY
Office: Förstberg Ling
Functions: Architecture
Average age of the associates: 35 years old
Has your team, together or separately, already conceived or implemented some projects and/or won any competition? If yes, which ones?
Förstberg Ling has built a couple of projects, among them House for Mother in Linköping, Sweden. David has curated an exhibition about urban playscapes