TEAM DATA
Team Representative: José Manuel López Ujaque (ES) – architect; Contributors: Mercedes Naranjo Ruiz-Atienza (ES), Paula Pastor Pastor (ES) – students in architecture
PLAYStudio
Plaza Calvo Sotelo 3 8A, 03001 Alicante (ES)
+34 965923392 - to@playstudio.es – www.playstudio.es
See the complete listing of portraits here
See the site page here


J. M. López Ujaque, M. N. Ruiz-Atienza, P. Pastor Pastor

VIDEO (by the team)

INTERVIEW
1. How did you form the team for the competition?
For this competition Mercedes and Paula joined the studio. Both of them were talented young students at the University of Alicante (Spain).
2. How do you define the main issue of your project, and how did you answer on this session main topic: the place of productive activities within the city?
The brief of the competition was asking for a very complex topic: an architectural typology able to mix housing and industrial spaces in a 50%-50% proportion. All that without forgetting that the plot itself, "as found" (mound, nature, railway traces, walls, etc.), had a certain value and "capacity."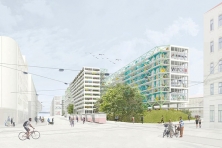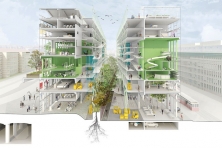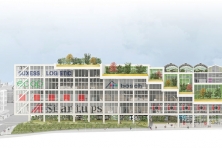 3. How did this issue and the questions raised by the site mutation meet?
What the project proposes to build is precisely the spectacle of logistics referred by Nina Rappaport as a necessary condition to "involve the public in the cycles of production, consumption and recycling necessary to create a self-sufficient city." So, we wanted to turn this footprint of the past into a "capable" image of the future which mixes housing and industry.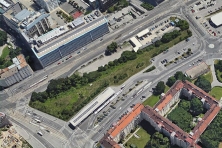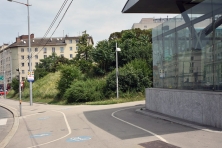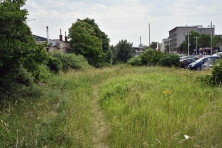 4. Have you treated this issue previously? What were the reference projects that inspired yours?
Due to our winning project in past Europan 14 Vienna, it isn't the very first time we have developed this ideology under the topic of "productive city". And working with notions such as "as found", mixing, capacity and uncertainty is something that characterizes our practice. Our reference projects were the Smithsons' Golden Lane Project (1952) and some kinds of shopping centres typologies tested for the first time in 1956 by the Viennese Architect Victor Gruen in the USA. In any case, we should underline a very important intellectual reference: the book Vertical Urban Factory by Nina Rappaport.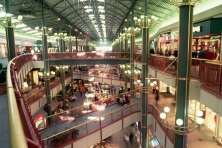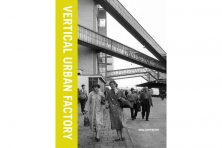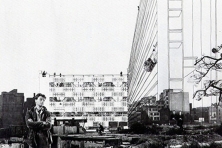 5. Urban-architectural projects like the ones in Europan can only be implemented together with the actors through a negotiated process and in time. How did you consider this issue in your project?
By means of adaptability and flexibility. Actually we are not designing a fixed form but an open system able to interact with actors over time.
6. Is it the first time you have been awarded a prize at Europan? How could this help you in your professional career?
The studio has been awarded in Europan 7, 8, 13, 14 and 15. We rather think winning Europan mainly helps you in your academic career. There is no professional career if you don't manage to implement your winning projects. And the only way to make it real is having a selfless support by the national Europan. Unfortunately, winning is just the first step.
TEAM IDENTITY
Office: PLAYstudio
Functions: Architecture
Average age of the associates: 30 years old
Has your team, together or separately, already conceived or implemented some projects and/or won any competition? If yes, which ones?
The studio has been awarded in Europan 7, 8, 13, 14 and 15. The winning proposal for Europan 7 in Vienna has been implemented.