TEAM DATA
Team Representative: Stefano Ivaldi (IT) – architect urbanist; Associate: Silvia Raineri (IT) – architect
Contributors: Geronimo Felici Fioravanti (IT), Martina Parma (IT) – urbanists; Chiara Magnini (IT) – student in landscape
Via S.Veniero 13, 20148 – Milano (IT)
+39 3409024491 - info@s2studio.it
See the complete listing of portraits here
See the site page here


S. Raineri, S. Ivaldi, C. Magnini, G. Felici Fioravanti & M. Parma

VIDEO (by the team)

INTERVIEW
1. How did you form the team for the competition?
We formed a multidisciplinary team to approach the project with different competences and a shared point of view about the role of design in urban transformations. The approach we all had comes from our similar academic background: we all met at the Politecnico di Milano (Urban planning and architectural design). In the last few years in particular, Stefano Ivaldi (architect urbanist) and Silvia Raineri (architect) have taken part in a course about Urban Regeneration as teaching assistants; in this occasion they met Chiara Magnini (urbanist and student in landscape architecture), Geronimo Felici Fioravanti and Martina Parma (urbanists) recognized as the best students of the course in the A.Y. 2017/2018. For all these reasons Silvia and Stefano asked them to join the team and to collaborate to enter the competition.


2. How do you define the main issue of your project, and how did you answer on this session main topic: the place of productive activities within the city?
The project is in our view an explorative tool made of an ongoing research process with hypothesis and verifications. In this perspective the main issues of our proposal emerged from an interpretative reading of the context, seen through the "interpretative lens" of the productive city. Our project reflects on the themes of permeability and accessibility, equity and integration, density and intensity. In particular, the project suggests an incremental transformation of Uddevalla made of different and specific design actions referring to 3 main strategies: reconsidering the role of infrastructure within the city; breaking boundaries and changing the pattern of segregation; and redefining the nature-culture relationship valuing the urban territory.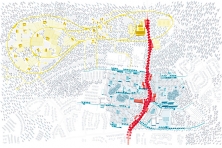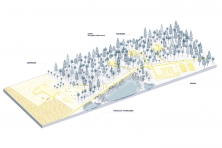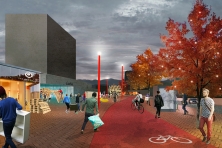 3. How did this issue and the questions raised by the site mutation meet?
Our project embraces the topic of the productive city not only from an economic point of view, but also from a social, cultural and energetic perspective. For this reason, the project focuses on the issue of permeability/inclusivity reflecting on the relationship between nature and culture, density and intensity. The main goal is to re-consider the built mass, infrastructures, open spaces and landscape as vibrant and attractive parts of the city. Nature is not only a bucolic object of mere contemplation or just a space to be protected; it is also a productive space for the contemporary city (energy, agriculture, tourism, sport, leisure and culture...) and it can trigger virtuous processes and circular economies.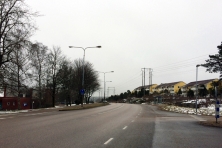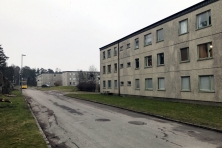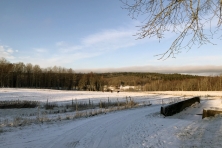 4. Have you treated this issue previously? What were the reference projects that inspired yours?
In the last few years the topic of productive city has played a crucial role in the urban practice and debate. Until today this topic has been a significant part of constant research through our design approach. And yet, it is only with Europan that we have truly oriented our interests and attention towards the topic itself.
Our proposal is based on other various projects, used by our team as references; for example our territorial interpretation of the context is strictly related to two metaphors: the "Patchwork Metropolis" (used by J. Neutelings in 1989 to describe the Dutch territory) and the "Archipelago City" (proposed in 1977 by O.M.Ungers in his project for "The city in the city. Berlin: green archipelago"). We also have some methodological references such the vision for Antwerp proposed by Secchi-Viganò in 2009 in "Territory of a new modernity". This project identifies different systems and geographies within the urban territory thematizing them with different issues and proposing several strategic actions, but maintaining an overall logic for the entire city.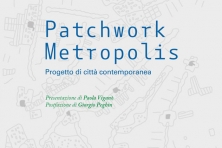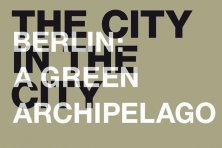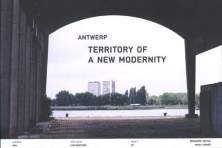 5. Urban-architectural projects like the ones in Europan can only be implemented together with the actors through a negotiated process and in time. How did you consider this issue in your project?
"JALLA!" is not conceived as a masterplan. Our proposal is more like a 'vision' that suggests multi-scalar strategies and specific design actions as a trigger for a regeneration process, which will guide the transformation of Uddevalla.
We propose an adaptable scenario that can be implemented in steps and in dialogue with the territorial needs and local priorities. The project can be implemented through a flexible process that embraces a wide temporal dimension including short, medium and long term actions.
The process involves different figures between public and private entities: local authorities, inhabitants, cooperatives and associations, etc. It exploits both the strengths and the inherent potentialities of the context in order to engage new inhabitants, new stakeholders along with new activities that will make Uddevalla more livable and attractive.


6. Is it the first time you have been awarded a prize at Europan? How could this help you in your professional career?
This is the first time we have worked together as a team and also the first time we have received a reward. We believe that reaching this goal is an incredible opportunity for us to weave a dense network of relationships with other European designers and to enhance our skills and knowledge about different ways to face contemporary city issues. It could also give us some visibility within the architectural panorama and sharpen our design, research practices and our professional career as well.
We hope to have the possibility to go in deep with our project and to follow up its development, getting in touch with representatives of Uddevalla municipality and any other actor involved in the transformation of the city.
TEAM IDENTITY
Office: /
Functions: Architecture, Urbanism, Landscape
Average age of the associates: 27 years old
Has your team, together or separately, already conceived or implemented some projects and/or won any competition? If yes, which ones?
This is the first time we have won a competition as a team. However, both Stefano Ivaldi and Silvia Raineri have experienced open or restricted competitions in collaboration with different architectural firms or individually. In some cases, the winning projects became the opportunity for several professional experiences:
Stefano Ivaldi has participated in diverse open and invited competitions in Switzerland as a team architect of PSAU – Privileggio Secchi Architettura Urbanistica. After winning the competition, PSAU has obtained the assignments to develop the projects through the definition of detailed masterplans and urban guidelines.
Stefano worked on several projects from the conceptualization phase to their implementation; among them: PAD Corberayes-La Chassotte, detailed masterplan, Givisiez (CH), 2019 – ongoing; PAD Chandolan Parc des Sports, detailed masterplan, Givisiez, (CH), 2014 – ongoing; Concorso Internazionale Bari Costa Sud, Bari (IT), 2018, first prize; Centro Sportivo nazionale di nuoto (CST), Tenero (CH), 2017, second prize; MEP Plateau d'Agy, first prize and commission for urban guidelines; Granges-Paccot (CH), 2014; Belgorod City Center Competition, Belgorod (RU), 2013, first prize.
Silvia Raineri, as a collaborator of CREW (Cremonesi Workshop s.r.l.), took part in several international projects in collaboration with other important architectural firms. She deals with architecture and urban planning on different scales and complexities; from the conceptualization phase to the detailed design.
Some of the main projects she has participated with CREW concern metro stations, among which: Metro Line 4 of Milan, architectural preliminary and detailed design of the stations, Milan (IT), 2010 – ongoing, stations under construction; Downtown Station (concept design by Snøhetta ), CREW detailed design, Riyadh (SA), 2013 – ongoing, station under construction.
At the same time she is also involved in open competitions, such as: International competition for the reconstruction of the existing Rajko Mitic stadium, CREW with Italferr, schematic design and masterplan, Belgrade (SRB), 2019 – winner; Via delle Orsole office complex, schematic design, Milan (IT), 2018 – second prize; and a few competitions for metro station exits and their related public spaces.
Geronimo Felici Fioravanti and Chiara Magnini were awarded with a special mention by the international jury vote in the "UrbanPromo Young X° edition 2018" with the project "San Siro - Living Inside Out" developed with Francesco Palmia and Alberto Cristofori during the 3rd studio of the bachelor degree program in Urban planning, successively implemented for the competition. Geronimo has also participated as a student intern of the architectural firm "UBI studio" (based in Milan), working on an open competition for the city of Grado (GO) and the requalification of "Costa Azzurra" beach.
Martina Parma took part in the design of "Parco del Ponte" competition project in Genoa [IT], working for Openfabric (a Landscape Architecture and Urban Design practice based in Rotterdam [NL] and Milan [IT]) that was one of the six finalists of this international competition. She also participated to Viinikanlhati International Urban Ideas Competition in Tampere (FI) and to Pachacamac Park Landscape Competition in Lima (PE) with Ibidem City, a research and design platform that includes professionals, researchers and academics.