The Anthill
Toulouse (FR) - Special Mention
TEAM DATA
Team Representative: Arnaud Jouanchicot (FR) – architect Associate: Hélène Grosdidier (FR) – architect
16 avenue du Golf, 44510 Le Pouliguen (FR)
alloheno@gmail.com – studioheno.com

See the complete listing of portraits here
See the site page here


H. Grosdidier & A. Jouanchicot
INTERVIEW
Click on the images to enlarge
1. How did you form the team for the competition?
We met 4 years ago during our first year of Master's dregree at Architectural University of Hanoi in Vietnam. At this time we started to work together on student competition and personal projects, investigating landscape and urbanism fields. Our personal research then focused on urban development problematics, so it felt natural to continue this collaboration, to participate in Europan and lauch Studio Héno.


2. How do you define the main issue of your project, and how did you answer on this session main topic: the place of productive activities within the city?
Cities are growing fast, so as their networks and inhabitants are flocking. Urban sprawling has already shown its limits but we are still implementing great distances between living and working places. The anthill deals with the ability for cities to develop on themselves, drawing from their existing resources, in a resilient and complementarity logic, by suggesting a hybridization strategy for commercial areas to blend working and living places. The old productive area is reinvented to highlight new human and urban forms : hurban.
3. How did this issue and the questions raised by the site mutation meet?
The renewed city, diverse and evolutive, tries to prevent from a contemporary commercial model that shows weaknesses, and opens on new perspectives and urban alternatives. The project watches out for future commercial brownfields (as a reminder of industrial brownfields) and organizes an urban development that deals with hosting citizens, activities and mobilities in an equal quality of life. The idea is to benefit from the strong attractivity of national companies, deeply settled on the site, and to associate local and smaller activities to set the stage for new residents.


4. Have you treated this issue previously? What were the reference projects that inspired yours?
We both oriented our graduation projects on suburban opportunities found in the 'peripheral city', mostly composed by productive areas, high-speed infrastructure and brownfields. So Europan 14 was the logical follow-up and a good challenge to synthesize our ideas. Basically we draw inspirations from our personal backgrounds, especially on asian cities (we lived in Vietnam for 2 years) that succeed in superimposing practices and mixing functions. Also we appreciate works that have been done for the Grand Paris study (by Secchi Vigano, Jean Nouvel or FGP), essays of Robert Venturi, Philippe Panerai or Rem Koolhaas, and we share a common passion for graphic representation.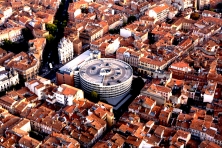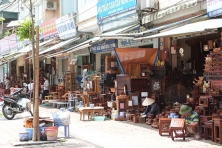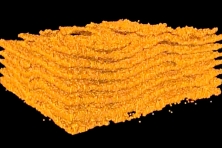 5. Urban-architectural projects like the ones in Europan can only be implemented together with the actors through a negotiated process and in time. How did you consider this issue in your project?
The main strategy was to build the project as a communication and educational tool, wishing that all actors could picture themselves easily in the process and could identify in the discussions. That is why we chose to literally storytell The Anthill and drew it as a comic book. As architects we are technicians but surely storytellers that lead and operate changes by building scenarios. That being said, we focused on 3 important aspects to facilitate the negotiations and enhance the debate: 1 - Observe & draw the site as it is, from the exact parking spot to company sign. 2 - Imagine interactions between actual and future users. 3 - Picture the scenario in time with realistic and right-scale operations.


6. Is it the first time you have been awarded a prize at Europan? How could this help you in your professional career?
Yes it is the first time we are awarded at Europan, but not the last we hope! It asserts our motivation and personal engagement on the problematics and challenges that our generation faces. We hope that it will lead us to more discussions on urban production and that the debates will empower people on interacting with their territory.